A Silver victory on the Podium at Nationals in Indiana for the 500m Time Trial and second Silver Medal for the 2000m Pursuit.
A moment to pause at the Olympic Velodrome at Dominguez Hills in Southern California for AXO, a sponsor.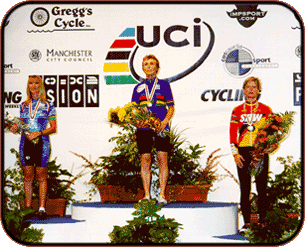 On the Victory Podium at Worlds 2000 in Manchester, England during the playing of the National anthem after the 500m Time Trial.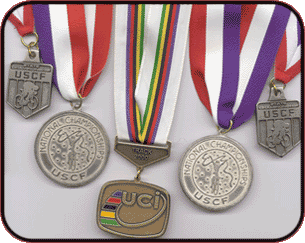 2000 Libby's first year in track cycling competition she brought home 2 Silver medals from States, 2 Silver at Nationals, and the Bronze at Worlds.
Endless hours of hard work on the track on a borrowed bike though the generosity of the much loved Wes Oishi.
Here are my awesome friends "the mechanic guys" that pull it all together: (from left to right) Tim Parker, Gian Bongiorno, Ted Ernst, and Jon Sacks gathered in front of the "Tri Athlete Zombies" shop. They are one of my gracious sponsors, thanks to the generosity of Jonathan Nahm. My first track bike (in the forefront) called "The White Angel", weighs in at a mere 16 lbs. The custom "White Angel" is designed by Craig Calfee. Let's bring home the Gold this 2001!
Note the cork hanging just under the seat of the White Angel.
To learn more, click here: Cycling Lore from the Days of Yore